Theme at Clifford Bridge Academy

Introduction
Our self-designed Thematic Curriculum provides learning opportunities that are tailored to the needs, experiences and background of our children, linked to the 2014 National Curriculum programmes of study for the following subjects:
The Thematic Curriculum is organised on a two-year rolling programme, with teachers planning and delivering termly themes.
A main curriculum driver underpins themes each term – Humanities, The Arts, STEM (Science, Technology, Engineering and Maths) - which ensures breadth and balance across all curriculum areas. The Local Area is an additional driver and is a strong feature of one theme per phase per year; particular themes include the school's locality, the history of Coventry over time, and geographical features of the local environment.
All subjects are covered in each theme at an appropriate depth, with the emphasis placed on the main driver; across a year there is parity of subject coverage. Progression Strand Tracker documents support teachers in planning sessions at an appropriate pitch for their year group.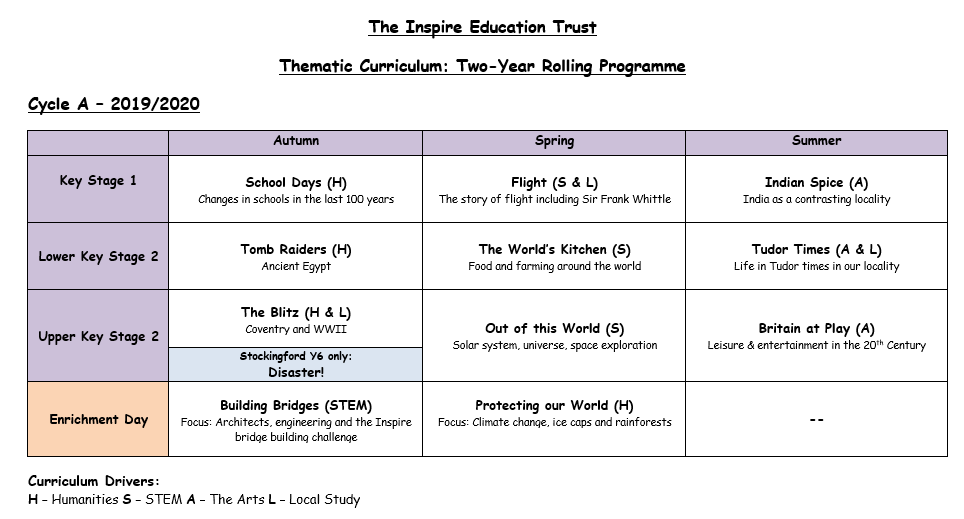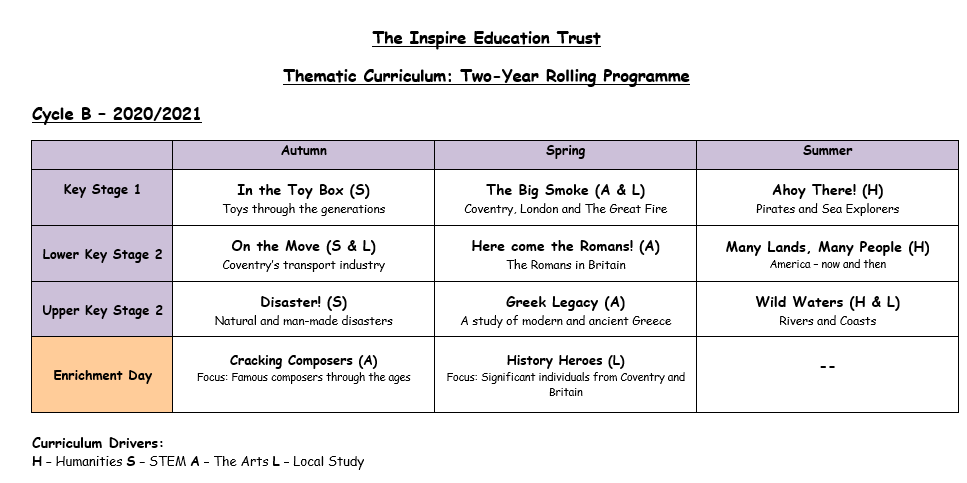 Each theme has been designed with a clear learning thread that takes children on an engaging journey through their theme, helping them to make links and build upon their learning in a variety of ways. Themes begin with a Launch, and include opportunities to enrich and celebrate, through trips, visitors and other events in school.

Termly enrichment days ensure breadth of opportunity and coverage of aspects of subjects that are not covered within specific themes. This year, theme enrichment days will be:

Children's learning is captured in scrapbook-style theme books, which celebrate all the learning opportunities the children have throughout their themes. This is done using a range of techniques, including written and photographic evidence, art work and QR codes