Science at Clifford Bridge Academy

Introduction
Science is taught through motivating enquiry questions taken from an amalgamation of Collins Snap Science and Cornerstones' Love to Investigate.

What does Science look like in our school?
Children develop their scientific knowledge and understanding through an enquiry-based approach where they are encouraged to investigate and explore the world around them through practical, investigative activities. Our Science units match the requirements of the 2014 National Curriculum programmes of study for Key Stage 1 and Key Stage 2. The National Curriculum aims to ensure all children:
develop scientific knowledge and conceptual understanding through the specific disciplines of biology, chemistry and physics;
develop understanding of the nature, processes and methods of science through different types of science enquiries that help them to answer scientific questions about the world around them;
are equipped with the scientific knowledge required to understand the uses and implications of science, today and for the future.
Science in the Foundation Stage
As part of developing Knowledge and Understanding of the World, children are encouraged and given opportunities to explore the world around them, developing curiosity, making observations and using their senses. The thematic approach in Nursery and Reception enables learning to take place in an engaging context, grabbing the children's interest and supporting them in making connections about the world around them. Opportunities for using the outdoors are maximised through walks during the seasons and adventures around the school grounds. Learning through play enables the children to experience first-hand the wonders around them, including, for example, hunting for frozen creatures in ice, or exploring changes in baking. This is where our budding scientists start to grow.
Science in Key Stage 1 and Key Stage 2
Science is taught discretely in Years 1 to 6 through motivating units taken from the Collins Snap Science and Cornerstones programmes and are explicitly linked to the National Curriculum programmes of study. Each lesson follows a three-step approach: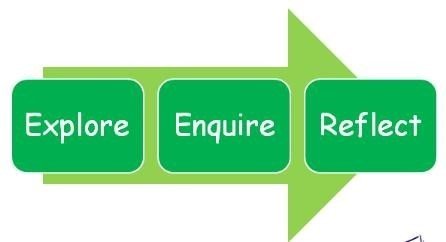 In Key Stage 1, units include Using our Senses, Plant Detectives and Shaping Up. In Key Stage 2, units include Amazing Bodies, The Earth and Beyond and Rock Detectives. In addition, we also celebrate British Science Week with a focus on different scientist, followed by an area of science that the children explore, experiment and discuss from nursery through to Year 6.
Half-termly topics ensure full coverage of the National Curriculum programmes of study for Science for each year group. Lessons focus on scientific enquiry during which children carry out practical investigations alongside learning key scientific knowledge and understanding.